Recently I bought myself an iPod Touch 8Gb and off course a couple of (usefull) applications/games.
Wifitrak (0,79 euro)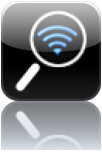 WifiTrak helps you find FREE and open WiFi hotspots and public access points quickly and easily.
WifiTrak scans for all available WiFi devices and networks in the area and tests each network it finds for usability. It shows a list of the networks sorted from most useable (open, not redirected, strongest signal) to least useable (secured or hidden, weak signal). It can automatically notify and launch mail or a browser when it finds a suitable network 
Notemaster Lite (Free)
Notemaster (Lite) let you easily create  notes containing text, images, and headers.  These notes can be organized with categories and be password-protected for privacy.
Facebook (Free)
Not much introduction needed 🙂 – Facebook for iPhone makes it easy to stay connected and share information with friends. Use your iPhone to start a conversation with Facebook Chat, check your friends' latest photos and status updates, look up a phone number, or upload your own mobile photos to Facebook while on the go.
iDroid Mini (Free)
iDroid Mini Browser is an innovative browser designed specifically for the iPhone/iPod. Inspired by iPhone's Safari,Android browser and Opera mini including full screen, tabs, smart url, etc.
For me a nice replacement until Opera comes out with their version for the ipod 😉
FileApp (Free)
FileApp browser displays files by folders, alphabetically, by date of copy or by file type.
You can view almost every file with the build-in viewer; such as:
PDF Viewer, Microsoft Office (Word, Excel and PowerPoint), Images (JPG, PNG, GIF, TIFF and others), iWork (Pages, Numbers and Keynotes), Open Office (OpenDocument) (Text, Spreadsheet, Presentation), Plain Text and RTF (Rich Text Format),  Audio (MP3 VBR, AAC, Audible, Apple Lossless, AIFF, WAV, CAF), Video (standard iPhone formats : H.264, MPEG-4), Web Archives,  HTML files, ZIP Archives, Comic Books, etc… 
iDownload (1,59 euro)
iDownload allows you to download files directly to your iPhone or iPod touch and share them to any browser enabled device (pc, mac, linux, iphone, ipod touch, mobile devices, etc). You can use iDownload like a normal browser and when u click a download link i should pop up an alert asking u if u want to download or save the link.
After downloading you can share your files to any computer or mobile device as long as it is connected to same wifi network.
Part 2 will follow soon.